News Board Lite
Using News Board Lite
How to feature a post
Find the blogpost you would like to feature. Click on the

button and select the 'Feature' option from the dropdown menu.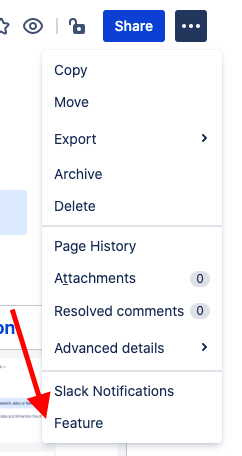 The feature dialog provides a toggle control to mark the blogpost as featured. Once you feature a post, it may take a few moments to appear on the News page while Confluence updates its search index.
You can quickly check if a blogpost has been featured by looking for the black tick on a yellow background icon. This icon is only visible to logged-in users.

Note: News Board Lite respects access permissions, so users can only see content they are entitled to see.
How to include an image in your featured blogpost
Simply attach or link to image in your post - News Board Lite will use the first image in the post. To learn about how to attach or link to images from the Web in a blogpost, see Display Files and Images.
If the first featured blogpost includes a big enough image, it will be shown as a hero in the first row (followed by a 2 x 3 grid). However, if the most recent image doesn't have a suitable image, a 3 x 3 grid will be shown instead.
If you embed a YouTube video on a page using the Widget Connector macro, News Board Lite will extract a preview image from the video.
Control the category lozenges (News, People, and Important)

Insert a 'Profile Picture' on your featured blogpost, and it will be tagged as 'People'. Any images will be ignored, and it will use the profile image instead. Use this to introduce team members or provide recognition.
Insert a 'Warning Panel' on your featured blogpost, and it will be tagged as 'Important'. Any images will be ignored. Use this to highlight must-read content.
Everything else will appear as 'News'.
For Administrators
How to restrict who can feature posts on the News page
By default, all users can feature posts. You can restrict using an allowlist of users who can feature posts.
The allowlist is set via the app configuration page for News Board Lite:

Note: Only users with Confluence administration permissions can set this restriction.
How to disable the News link
You can disable the link to the News page that appears by default in the top navigation bar.
Access this setting via the app configuration page for News Board Lite:

Note: Only users with Confluence administration permissions can set this restriction.
How to use as a theme
News Board Lite can be used as a theme within a space and replaces the standard space homepage. See Apply a Theme to a Space.
Once applied as a theme, if you are a Confluence administrator you can also then set this space as your 'Site Homepage' to replace the default dashboard with the News page. See Configuring the Site Homepage.
How to blog in Confluence
Some recommended reading to help you get the most out of blogging in Confluence Cloud:
Compatibility with News Board
Installing News Board Lite and News Board at the same time is not recommended, as users will see duplicated feature icons and menu links on blogposts. However, featured content will continue to work with the following limitations:
When displayed in News Board, blogposts featured using News Board Lite have no category assigned and the lozenge will not appear.
If a blogpost featured using News Board is updated using News Board Lite, the category will be removed.
Category keywords set using News Board are ignored by News Board Lite.
If you want to try News Board, it is safe to uninstall News Board Lite and then reinstall again later if you change your mind.
Data security and privacy
No customer data is stored externally by this app - all data is stored as custom content and app properties within each Confluence Cloud site where it is installed.
App lifecycle data (information about when the app is installed, enabled, disabled or uninstalled) is stored by the application. However, no other usage data is collected by the app.
Terms of Use
Chief Technology Solutions grants you, being an Atlassian customer (e.g. person or entity), a limited, worldwide, non-exclusive, non-transferable and non-sublicensable license to install News Board Lite (previously known as News for Confluence Cloud).
The News Board Lite app is provided to you via the Atlassian Marketplace as a "Free App" for Confluence Cloud.
The app is provided on an "as is" and "as available" basis, without warranty of any kind, express or implied.
You may not modify, reverse engineer, decompile or disassemble the News Board Lite app in whole or in part, or create any derivative works, unless otherwise expressly authorized in writing by Chief Technology Solutions.
Date: September 2020